Haynes Explains Pensioners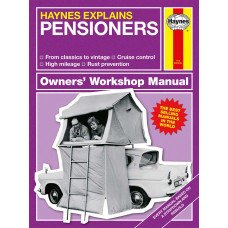 ISBN:
9781785211058
Availability:
In Stock
Format:
Hardback
Page Content:
40
For our trade prices please register or login.
Haynes Explains are compact guides to four major stages of life: babies, teenagers, marriage and pensioners. Old age is when you realise that you will never be old enough to know better. The aim of Haynes Explains Pensioners is to help you get the best value from your retirement.
It can help you (a) decide what work must be done (b) tackle this work yourself, though you may choose to have much of it performed by external contractors such as That Nice Young Man From The Village, The Carer Who Talks Too Much or The Curtain Twitcher Across The Road. Sections include: Shock Absorbers (adjusting to the sudden change). Every evening she looks pleased when you say Honey, I m home! Until the evening you add forever. Maintaining Residual Values (financial planning). Rolling Resistance (lawn bowls and golf). Bowling is the ideal sport a minute of exercise for every 59 minutes of drinking and talking. Unlimited Mileage Warranty (an RV and an open road). Wear And Tear (the ageing process). Your body will inevitably sag in old age. Though on the plus side, you can have fun guessing what the tattoo used to be. Computer Malfunction (memory problems).